By SK-B | Mon, January 15 2018
Today, Norway is one of the richest countries in the world, and we will not give up on our cradle-to-grave welfare. Our parental leave is a generous year, kindergarten is cheap, and our higher education is free. Health care is also free forevery Norwegian citizen. Our society strives to be tolerant. Every political party promotes liberal values,gender-equality and human rights. The plumber´s son goes to school with the CEO´s daughter, and social mobility is high. Hence, our leaders have diverse backgrounds and anyone could meet the NATO secretary general skiing in the woods or our Prime Minister at the supermarket doing her own grocery shopping.
So instead of trying to import our whiteness, the US President should try letting some of our ideals in.
[link to full article] Norwegians aren't likely to move to the US, even if they're welcome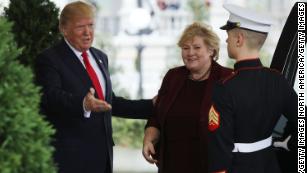 US President Donald Trump meets Norway's Prime Minister Erna Solberg at the White House on Wednesday.